Montreal - April 14, 2021
Montreal cyclists can now protect their bikes by registering them with Garage 529, the best platform yet available for the prevention of bike theft. SPVM officers met today at the Maison des cyclistes with representatives of Info-Crime Montréal, Vélo Québec and elected officials of the Ville de Montréal to highlight the good news, which is arriving just in time for the 2021 cycling season.
Since its creation in 2013, Garage 529 has been adopted by numerous North American municipalities, businesses, institutions and police forces. Cities in which the network is available have had quick and surprising results. Notably, bike theft in the City of Vancouver has dropped by nearly 40% since Garage 529 arrived in 2015. The SPVM is the first force in Québec to join Garage 529.
``Every officer who knows Garage 529 appreciates its ease of use and its effectiveness in the fight against bicycle theft. This platform will allow us not only to obtain precious information for our investigations, but it will also help us to return stolen bikes to their rightful owners when we find them.`` explains Commander Steve Girard, Chief of Neighbourhood Station 44 and officer responsible for the stolen bicycle file at the SPVM.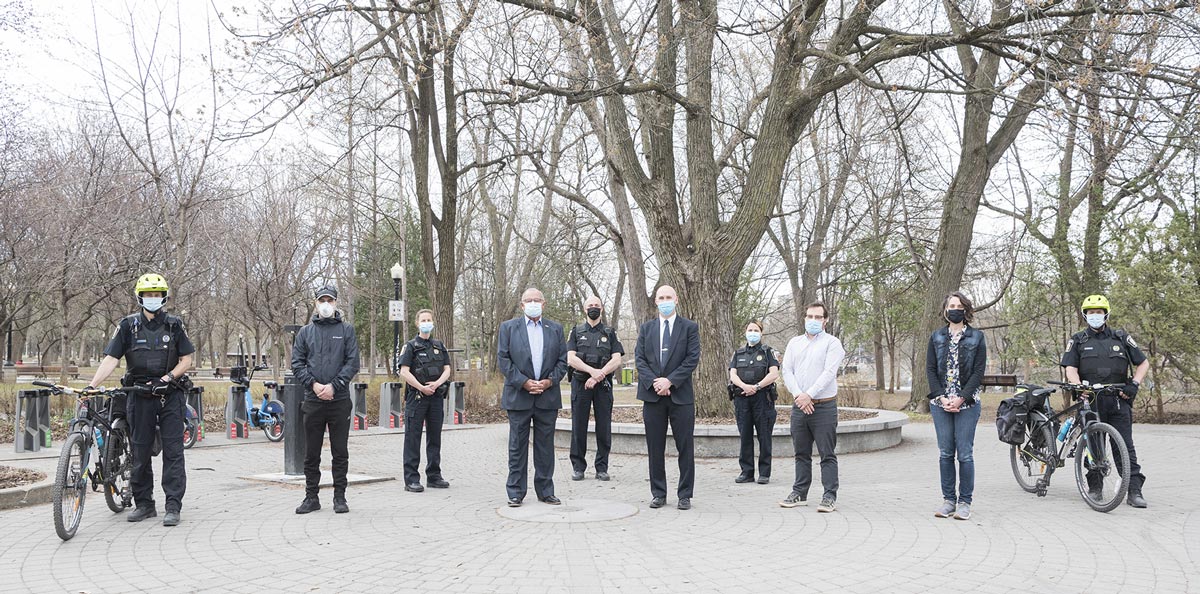 (From left to right), Dominique Audet, cyclist and founder of the ``Vélo volé Montréal`` Facebook group, André Turcotte, member of the Info-Crime Montréal board of directors, Commander Steve Girard, Chief of PDQ 44 and officer responsible for the SPVM stolen bicycle file. Jean-François Rheault, CEO of Vélo Québec, and Marianne Giguère, City Councillor for the De Lorimier District and Councillor for Active Transport on the Executive Committee, met today in the company of police officers to highlight the arrival of Garage 529 in Montréal.
---
Simple and Fast Registration

One of the strengths of Garage 529 rests in its great simplicity. Just a few minutes will suffice to register a bike and to protect it from theft. Here's how:
First, go to spvm.qc.ca/garage529 to create a free account.
Cyclists can then register their bikes by adding some photos and some basic information, such as the serial number, the make and the model.
Once the registration is complete, it is recommended to put a Garage 529 sticker on the bike. This inviolable sticker carries a unique identification number which strongly dissuades potential thieves.
Garage 529 will soon make a mobile app available, in French, for Android and iOS mobile devices, with which it will notably be possible to register bikes and to send an alert in case of theft.
``Bicycle theft is a scourge, which is considered by many Montrealers as a significant barrier to using this means of active transport in the city, adds Marianne Giguère, City Councillor for the De Lorimier district and Councillor for Active Transport on the Executive Committee. We are delighted that the SPVM is adopting this technological tool, which has proven its worth in other North American cities. It will act, I believe, not only as an important turning point in the fight against theft, but also in the promotion of active transport in Montréal.``
Some 5,000 Garage 529 stickers will be offered for free in SPVM neighbourhood stations thanks to a generous contribution of $9,500 from Info-Crime Montréal, main partner of the project. The program also receives support from The Insurance Bureau of Canada.
``Info-Crime Montréal is very proud to contribute financially to this important project of bicycle theft prevention initiated by the SPVM. As with other SPVM prevention projects to which we contribute, this allows us once again to reach one of our principal objectives, which is to increase Montrealers' sense of safety. By mobilizing the public to protect itself with new and easily accessed technological tools, we will significantly increase the success of this approach and its subsequent good results.
In Case of Theft, a Community Mobilizes
If a bicycle is unfortunately stolen, its owner can trigger an alert in a few seconds on the Garage 529 site or on the mobile app. A notice is then sent to all platform users in the area. If one of them sees the bike, he can post a report to help with locating the bike. Registation also facilitates filing a theft report with the SPVM. Once a bike is reported stolen on Garage 529, it becomes more difficult for thieves to resell since the police, along with shop owners and individuals, can know its status by consulting the platform.
``Garage 529 has proven itself elsewhere in the country, so we are delighted to see it arrive in Montréal, where many cyclists are confronted with the theft of their bikes. For the system to bear fruit, it will have to be widely adopted as much by individuals as by bike shops`` says Jean-François Rheault, CEO of Vélo Québec.
``The Insurance Bureau of Canada is delighted to support Garage 529, a prevention program which has proven itself elsewhere in the country. We encourage cyclists to register their bikes and so to reduce the risk of theft`` emphasizes Pierre Babinsky, Director of Communications and Public Affairs for the Insurance Bureau of Canada.
The launch of the new service for the Montreal public adds to the efforts deployed by many boroughs to counter bicycle theft. In that respect, more than 8,000 bike racks will be added in 2021, notably in the Plateau-Mont-Royal, Rosemont-la-Petite-Patrie, Ahuntsic-Cartierville, Mercier-Hochelaga-Maisonneuve, Rivière-des-Prairies-Pointe-aux-Trembles, Ville-Marie and Sud-Ouest boroughs.
To learn more about Garage 529, visit the project529.com site.
For information
Relationniste en devoir
Service des communications
Service de police de la Ville de Montréal (SPVM)
514-280-2777